2015 Scholarship Winners
BRIDGEWATER, NJ JUNE 3, 2015: The Kimberly A. Nelson Foundation, Inc. presented its annual scholarships to Brittany Powelson, Rachel Staffin and Justin McBurney seniors at Bridgewater-Raritan High School, on Wednesday June 3, 2015. The $1,500.00 awards were given during the annual Choir Dinner at the Bridgewater Manor.
As part of the scholarship's requirements recipients must be active in the high school's choral groups and musical theater productions. In addition, those receiving the award must demonstrate a commitment to academic excellence and community service.
Read about our 2015 scholarship winners
here
!
The 2015 Sing-Off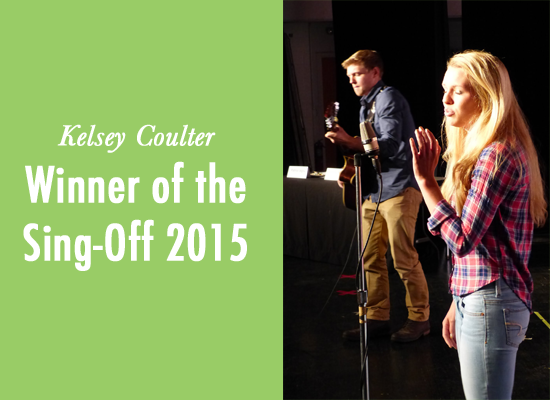 BRIDGEWATER, NJ JUNE 15, 2015 On June 5, 2015, an audience of about 250 enjoyed local young vocal talent showcased at Bridgewater Raritan High School (BRHS) for the fourth annual Bridgewater Sing-Off competition sponsored by the Friends of the Kimberly A. Nelson Foundation, Inc. The show was modeled on the format of American Idol, and consisted of 13 auditioned solo and ensemble vocalists who were all current BRHS or Somerset County Vo-Tech students. Prizes were awarded based on evaluations of three professional judges, each bringing their own perspective, but providing just the right mix of honest, experience-based feedback, coaching, and entertainment. The event provided unique opportunities for performance exposure and constructive feedback for talented local singers. This year, a video about the foundation's work was also featured during intermission. A beautiful tradition continues as witnessed by the popularity of the event with aspiring performers, alumni, and audience members.
The evening was opened by David Fernandes and Noel Zucchero, 2014 recipients of the Foundation scholarships. Philip Alongi, a nationally known opera singer and Executive Producer of NJTV News, served as the Master of Ceremonies for the event and kept the evening flowing by entertaining the audience as well as introducing the judges and contestants.
Proving that persistence pays off Kelsey Coulter took top prize with her performance of Mickey Guyton's, Better Than You Left Me, to enthusiastic reviews from judges Patrice Jegou, Andrew Chervak and Patsy Palma.
This was Kelsey's third year performing at the Sing-Off and the second time she's taken home a prize. In 2014 she took 2nd place with her performance of Dolly Parton's Here You Come Again.
Second Place went the quartet of Ariel Staffin, Jacob Tyles, Chloe Crosby and Kim Cook with their rendition of Demons, by Imagine Dragons. Third place was awarded to the duo of Julia Bianciella and Khailah Johnson, singing In His Eyes, from the Broadway musical Jekyll & Hyde. Performances are available on
YouTube!