Scholarship applications for 2017 are open! The deadline is May 15th, 2017.

Get the application HERE. Once you've completed your application, please email it to info@kimsway.org or mail your application to our P.O. box (postmarked by May 15th):
Kimberly Anne Nelson Foundation
PO Box 484
Martinsville, NJ
08836

SCHOLARSHIP AWARDS: $1,000 - $2,000

ELIGIBILITY: Must be a graduating senior of Bridgewater-Raritan High School and be active in choir and the Spring musical. See application for full eligibility requirements.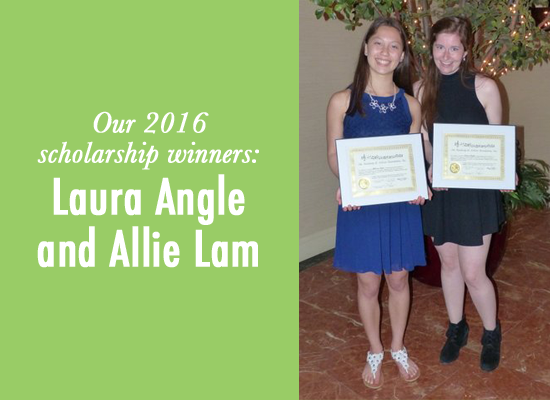 Our Scholarship Recipients
2016 Recipients
Laura Angle has been an active participant in the BRHS Choir Program since freshman year, having participated in all three curricular choirs. She has also spent many hours after school in Lorelei and Glee. Through Choir, Laura has had the opportunity to lead sectionals, go on amazing field trips, participate in the school's Christmas Spectaculars, and organize Spirit Week, all memories that she will cherish greatly for the rest of her life. Laura has also been a member of the BRHS Drama Program, actively participating in four musicals over her high school career. From Legally Blonde freshman year to Pippin senior year, there is not a single moment she would change. The friends and memories she has made through the program are some of her favorite and although she is sad to be leaving, she cant wait to see what they come up with next because she knows it will be nothing less than extraordinary.

Laura would like to take the time to thank the Kim Nelson Foundation for supporting her and the entire program at BRHS. She never knew Kim but has seen the legacy that she has left behind and is inspired by how many people she touched. Kim's values have lived on through the friendships she formed and the activities she participated in and Laura tries to embody these values everyday. She is extremely grateful for the opportunities the Kim Nelson Foundation has provided her and plans to live her life the Kim Nelson way at Syracuse University where she will major in Digital and Broadcast Journalism with a minor in Rhetoric and Public Advocacy.
Allie Lam has been a part of the BRHS Choir program since her freshman year, singing in Lorelei for four years and all three curricular choirs. She loved performing in New York City and meeting and working with composer Eric Banks. During her senior year, Allie served as Logistics Officer on the newly created Choir Council. She enjoyed helping Mr. Wilson organize many aspects of the choir program, including field trips and concerts. Allie received the 2016 Choral Director's Award.

In addition to the choir program, Allie participated in the ensemble of the spring musical for four years. She enjoyed playing every role from Plate (Beauty and the Beast) to Player (Pippin). Allie sang in the Sing-Off three times. She sang with Amy Cruz in 2014 and 2016, winning third place for their duet in 2014. In 2015, Allie sang as an unjudged act with Fourté, Female Barbershop Quartet.

Outside of music, Allie is a member of the National Honor Society and the French Honor Society and has been volunteering for the Literacy Volunteers of Somerset County since she was nine. Allie enjoys swimming competitively for the JCC and coaching swimmers at Juniper Lane where she also works as a summer lifeguard.

Although she never met Kim Nelson, Allie is incredibly honored to have received a scholarship in Kim's memory. She would like to thank The Kimberly A. Nelson Foundation for this meaningful scholarship and for supporting her two favorite BRHS organizations: the Choir Program and the Drama Club.

Allie plans to study math and music engineering next year at Tufts University and cannot wait to get involved with music in college.
2015 Recipients
Justin McBurney is in his second year at Montclair State University, studying Music Education with an oboe primary, and a minor in psychology! He hopes to continue his work on oboe, and attend graduate school for performance upon graduating. Additionally, Justin is the president of MSU acapella, the first established acapella group at Montclair! He hopes to use the skills that he learned in the choir program at Bridgewater to help the group continue to grow.
Brittany Powelson spent her freshman year at Messiah College in Pennsylvania, but will be transferring to Montclair State University in the fall of her sophomore year. At Messiah, she sang with the school's Women's Ensemble and volunteered at Promise Place, where she provided emotional support for troubled women. She is currently a psychology major, but is planning on keeping psychology as a minor and auditioning for Montclair's music therapy program. At BRHS, Brittany was incredibly dedicated to the choir program, as it was her second family. She also participated in the school's musicals Legally Blonde, Beauty and the Beast, and How to Succeed in Business Without Really Trying. She was so honored and thankful to have received the Kim Nelson award, as it has inspired her many times to continue singing and performing and to never let music go.
Rachel Staffin just finished her freshman year at Indiana University where she is majoring in business with a possible minor in arts management. She still keeps music close to her heart as a member of the Jacobs School of Music University Chorale and All Campus Band. Rachel is also a new member of Theta Phi Alpha sorority and took part in a week-long service trip to Costa Rica through IU. Rachel loves taking advantage of all the amazing opportunities IU has to offer, and is so grateful to the Kim Nelson foundation for helping support her journey!
2014 Recipients
David Fernandes is a sixth-semester Music Business/Professional Music double-major at Berklee College of Music. During his time at BRHS, he participated in the spring musicals and was very active in the choir program. He is currently the Assistant Music Director of The CharlieChords, Berklee's award-winning all-male a cappella group. Although he is no longer a part of the BRHS community, he is very grateful to the choir program and the Kim Nelson Foundation for their continuous support.
Noël Zucchero is a music education major at Westminster Choir College. She was so incredibly humbled to have been awarded the Kim Nelson scholarship in 2014. In her time at BRHS, Noël was involved in all four musicals, Symphonic Choir, Lorelei, and served as the teaching assistant for Select Women's Choir in her senior year. At WCC, Noël served as soprano section leader for Chapel Choir. She hopes to one day teach high school choir. Live life the Kim Nelson way!
2013 Recipients
Jaime Bartolett just finished her Junior Year at Marymount Manhattan College where she is working toward earning a Bachelor of Fine Arts in Acting and a Minor in Business Management. She most recently appeared in Marymount's productions of "Women and Wallace" and "Spring Awakening". Jaime also works as a Student Recruiter for the Theatre Department and has made Dean's List every semester. She is so honored to be a scholarship recipient of the Kim Nelson Foundation and is grateful for all they do to carry on Kim's memory.
Sarah Loeffler is a rising senior at Ithaca College, majoring in Music Education and Vocal Performance. At BRHS, Sarah was an active member of the choir program, and participated in musicals "Thoroughly Modern Millie", "Dirty Rotten Scoundrels", "Godspell", and "Legally Blonde". Currently, Sarah serves as Co-Conductor of Premium Blend, IC's all female a cappella group, and performs regularly with the Ithaca College Choir. Thank you to the Kimberly Nelson Foundation!
2012 Recipients
Since graduating from BRHS and receiving the 2012 Kim Foundation Scholarship, Marisa DiPaola has graduated from Muhlenberg College, double majoring in Theatre and Media/Communications, with a Music minor. At Muhlenberg, Marisa performed in student-directed productions and was a member of Noteworthy, an all-broadway a cappella group. She has taken on a number of leadership roles, serving as a Student Advisor and Orientation Leader, PR Manager and Secretary of Noteworthy, and both Recruitment and Ritual Chair of Phi Sigma Sigma Sorority.
Melanie Fernandes is about to graduate from Gettysburg College with a BA in History and minors in Educational Studies and Theatre Arts. While at Gettysburg she served as an Editor-in-Chief for the Gettysburg Historical Journal, worked as a student assistant in Gettysburg's Special Collections and College Archives, and participated in several volunteer programs in the Gettysburg community. Next year Melanie will complete a one-year internship in Gettysburg College's library before continuing on to graduate school at Simmons College in Boston for Library and informations Science, and History.
2011 Recipients
Danielle MacMath graduated from BRHS in 2011, where she was an active member of the Theater and Choir programs. She attended Fairleigh Dickinson University and earned her B.A. in Theater and Literature in 2015 and M.A. in Teaching in 2016. She continues to perform in plays, musicals, and staged readings. Danielle tries to live life the Kim Nelson way.
Katie Wullert is a 2015 graduate of Boston College currently at Stanford pursuing her PhD in sociology. At BC, she performed with the University Chorale in the US and Europe, as well as with the Liturgical Arts Group at Sunday masses. She now sings on Sundays with Catholic community at Stanford. Since moving to California, she is learning to like hiking and has happily found Broadway tours of some of her favorite shows to remind her of home. Katie continues to strive to live her life the Kim Nelson way.
2010 Recipients
Since being awarded the Kim Nelson scholarship in 2010, Zachary Sitrin received his Bachelor of Fine Arts in set design from Mason Gross School of the Arts at Rutgers University. He works with artists and design firms in Manhattan and Brooklyn, where he drafts scenery, furniture, and chandeliers. His scenic and prop designs have been featured in television, off Broadway and downtown NYC productions. Zachary is lucky for the friendship he and Kim shared and remains grateful for the Kim Nelson Foundation.